Magazine
Series 01, Episode 06
Air Date
17 December 1992
Previous
Birthday
Next
Hospital
Magazine is the fifth episode of Absolutely Fabulous's first series which was first broadcast on 17 December 1992.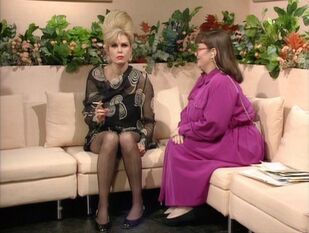 As 'Executive Fashion Director' of a magazine, Patsy's rare appearance at her job requires a map to find her office.
When she comes to blows with her models, Patsy tries to persuade Saffron and her grandmother to be subject to a television makeover in their place. She uses the tale of her emotionally distant mother and the dreaded word 'please.'
Guest Stars
Edit
Community content is available under
CC-BY-SA
unless otherwise noted.